10 of the best road trips around Australia
Blog post
- as voted by the Vyro team!
Going on a road trip is one of the great Australian past times, and one of the best ways to explore this massive country. So, the team at Vyro have put together their top 10 epic road trips around Australia. Hopefully these give you a bit of inspiration for your next trip.
Tips and considerations for an electric vehicle road trip
Firstly, planning is an essential part of long EV road trips. Always ensure you know the location of your next charging point, and how long you'll need to charge there. Powerful DC chargers can deliver hundreds of kilometres of range in an hour, while smaller AC stations will require a longer stop to accomplish the same. Check out the Electric Vehicle Council's charging map here to see all of the available charging stations across Australia.
Also, check out an app called PlugShare. It's a free EV charging map, where Aussies share places that they've found where you can charge. You'll also find charging tips, reviews and photos from the EV community.
So, now that the planning's done — where will you go first?
1. Great Ocean Road, Victoria.
The spectacular Great Ocean Road is often said to be one of the greatest drives in Australia. The stunning route hugs the seaside cliffs and weaves along the wild and windswept Southern Ocean. Along the way you can see the towering rock sculptures called the 12 Apostles, get up close to native wildlife, and take in iconic, epic surf breaks, pristine rainforest and misty waterfalls. You'll find plenty of things to see and do around every corner.

The drive is a total 224km in length, running from Allansford up to Torquay. There's a number of stops along the way, such as Lorne, Apollo Bay and Peterborough, that offer good eateries, galleries, museums and heritage attractions. You'll be able to feast on a lot of spectacular views and local produce on this road trip.
Vyro's CMO Tessa says: This is by far my favourite drive in Australia! On weekends you'll find us down at a local cafe in Torquay, attempting to surf at Bells Beach or exploring local boutique stores in Anglesea. A very blissful way to spend a Sunday down the coast.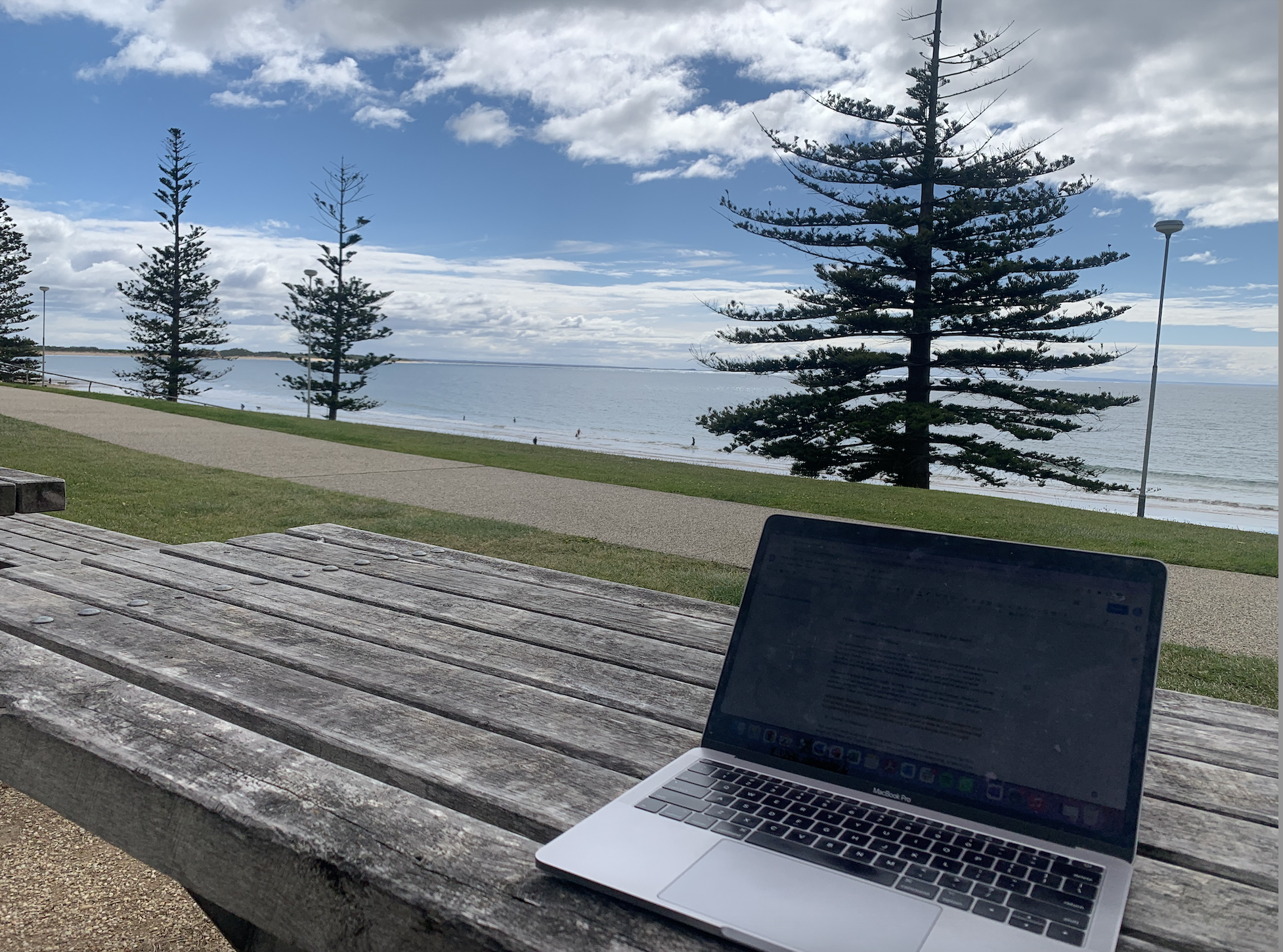 (This picture was taken down at Torquay main beach when writing this blog post.)
2. Sydney to Melbourne.
This road trip takes a bit more planning than some of the others we have on the list. At a length of 1054km, the Coastal Discovery drive from Sydney to Melbourne, is one of pure magic and adventure. From unspoilt coastline to pristine beaches, wild camping spots and turquoise lagoons, there's a lot to see and do on this drive.
Even if you only have a few days to get from Sydney to Melbourne by car, the panoramic ocean views, picturesque seaside towns and rolling national parks, will make it a trip to remember. You'll find a string of coastal towns and charming fishing villages along the way, including Kiama, Milton, Lakes Entrance, Bermagui and Narooma, and lots of national parks, such as Croajingolong National Park, Wadbilliga National Park and Deua National Park.
There's a strong Aboriginal presence in parts too, as well lots of native wildlife, perfect fishing spots, and beautiful hikes through the national parks. You can easily spend a day at many of the stops between Sydney to Melbourne, so plan ahead.
Vyro's CEO Will says: The South Coast is an amazing place. Take it easy and visit some of the wineries around Bowral or follow the Southern Highlands Pie Trail.
(Image credit: Visit NSW.)
3. Heritage Highway, Tasmania.
The most direct route between Hobart in the south and Launceston in the north is via the Midland Highway. The journey usually only takes a couple of hours, but we have a better idea; take your time, explore the historic towns along the way, and discover why 200 years on, there's still plenty of ways to get held up on the Heritage Highway!
The historic road was built by convict gangs in the early 1800s, and was once a well-known haunt of highwaymen. What's to see and do here now? Well, the charming colonial towns and villages of Perth, Cressy, Evandale, and Longford, and the lush countryside are big draw-cards, as is the gourmet food and the getaways in old, atmospheric cottages.
The days of convicts and bushrangers are long gone, but echoes of Tasmania's colourful, chequered past remain along the Heritage Highway.
(Image credit: Unsplash - Natallia Safonava).
4. The Alpine Way, New South Wales.
Pack your sense of adventure for this unforgettable drive from Jindabyne, New South Wales, and up into the hills towards Corryong in Victoria, for a road trip with dramatic alpine scenery. The drive takes you through Kosciuszko National Park, where you can camp among wallabies and wombats on the banks of the Snowy River. There's plenty to see and do whilst you're there. You can enjoy world-class mountain biking, go fishing in pristine icy waters, go horse riding through the high country and hiking to the top of Australia's highest peak.
The route winds through tall mountain forests and past the dramatic western fall of the Main Range, snow-capped peaks can be seen from winter through to spring. You'll be driving a path well-travelled, rich with historic significance. Aboriginal people travelled this route to the high country, and more recently, it was used as a drover's stock route and for the Snowy Mountains Hydro-Electric Scheme.
A road trip not to be missed.
Vyro's CEO Will says: We stopped off in the national park and walked from Charlottes Pass to the top of Mt. Kosciuszko. The hike only took a day and it offers some beautiful lookouts and scenery including the snowy river.
(Image credit: Visit NSW.)
5. Kuranda, Queensland
Take off from the tropical beaches of Cairns in Tropical North Queensland, and before too long you'll be up in the World Heritage-listed rainforest mountain retreat called Kuranda. Situated high up on the Tablelands, the short road trip to Kuranda Village is a wonderful scenic experience in itself.
Wind down your windows along the Kuranda range and you'll feel the outside air get cooler as you driver further and further into the rainforest. The scenic drive along the side of the mountain provides breathtaking views, rocky waterfalls and the buttress roots of giant rainforest trees.
Vyro's CMO Tessa says: I grew up in Cairns and would quite often visit the Kuranda markets on the weekend. There's a couple of ways that you can get up to the Tablelands. If you'd rather relax than drive, then I'd suggest going the old-fashioned way and taking the 120-year-old Kuranda Scenic Railway! The journey takes nearly 2 hours, as you meander your way through the 93 turns and 15 tunnels to get 328m above sea level. Kuranda is a very special part of the world and a great trip for sure.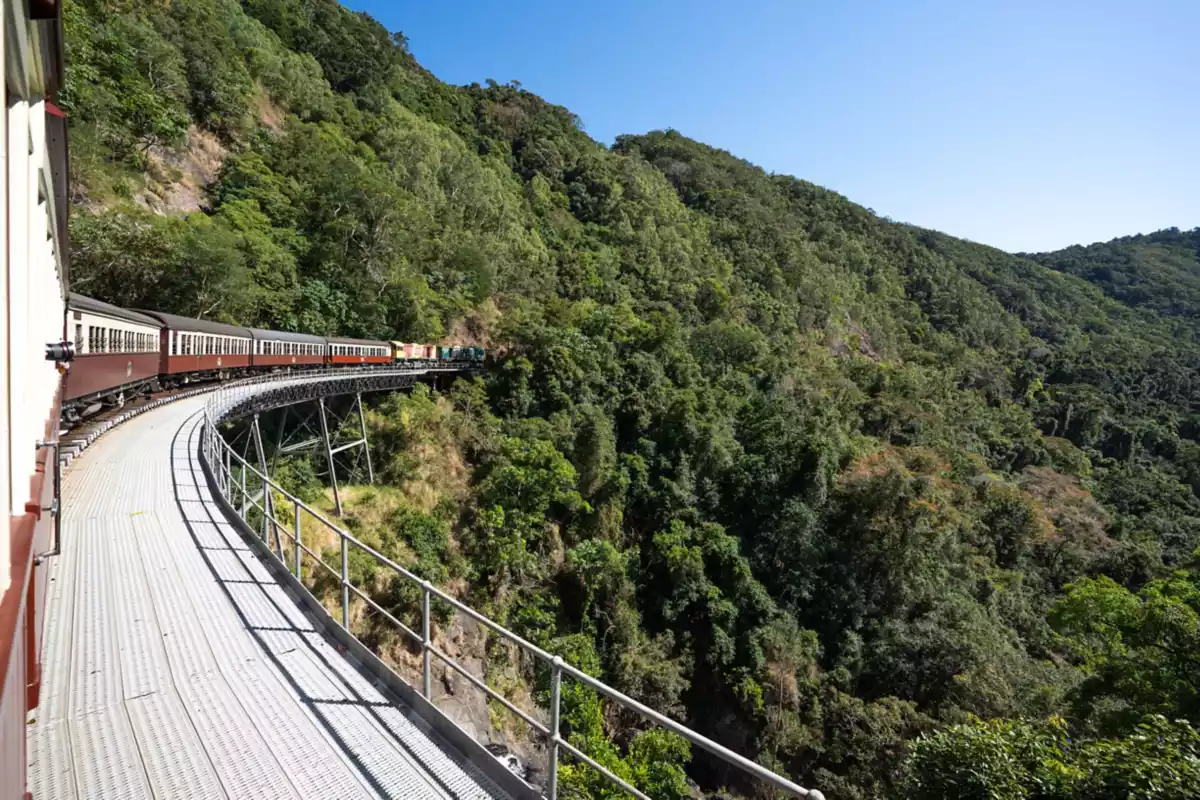 (Image credit: Queensland Tourism).
6. Kangaroo Island, South Australia.
Next on the list is one of Australia's hidden gems: Kangaroo Island. Located off of South Australia, this trip is a sanctuary for wildlife, mouth-watering local food and wine, breathtaking scenery and luxury accommodation. It's the perfect way to leave the hustle and bustle of the city and get back to nature for a really relaxing break.
There are some 1,600 km of roads here, with several driving itineraries on offer. And you can either take your own car to Kangaroo Island by ferry or hire a car when you get there. You can expect the majority of our main roads to be sealed, but if you're wishing to go out bush, then there'll be a few unsealed roads that'll lead you to hidden private beaches, natural wildlife habitats and special destinations.
Give yourself plenty of time to drive and explore.
Vyro's CEO Will says: The landscape on "KI" is rugged and authentic. Slow down and key your eye out as you travel into the Flinders Chase National Park, we spotted a koala straight away! Also, if you're into seafood then head to American River for quite possibly the best oysters you'll ever have.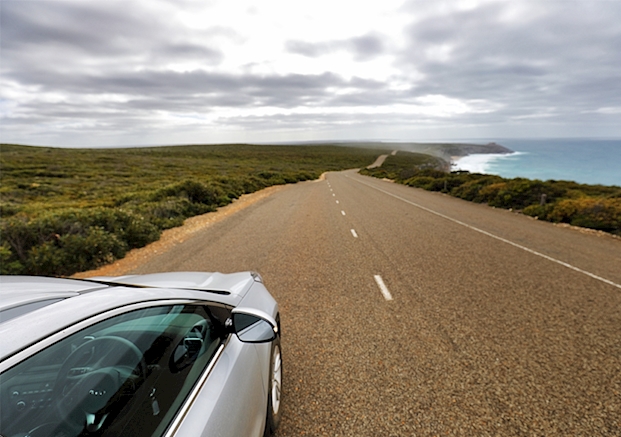 (Image credit: Discover Australia).
7. The Nullarbor Plain, South Australia heading to Western Australia.
Driving across the Nullarbor Plain is one of the world's greatest transcontinental journeys. At almost 2,000 km in length, it might be known as Australia's longest, flattest, straightest road, but there's a lot more to see and do along the way than most people think! If you have a handful of days to spare, and are craving space, freedom and an authentic Australian experience, then set off from the Eure Peninsula in South Australia, and journey towards the goldfields of Western Australia.
It's a fantastic opportunity to get off the beaten track and feel the wide open space of Australia's vast outback beneath your wheels. You'll need a four-wheel-drive if you plan to leave the highway, but otherwise it's an easy driving route on a powerful scale.
Worried about charging along the way? There's no need to be. You'll need to plan ahead, but there are plenty of charging stations along the Nullarbor. Check out Robert Dean's recount of travelling across the Nullarbor in his electric car here.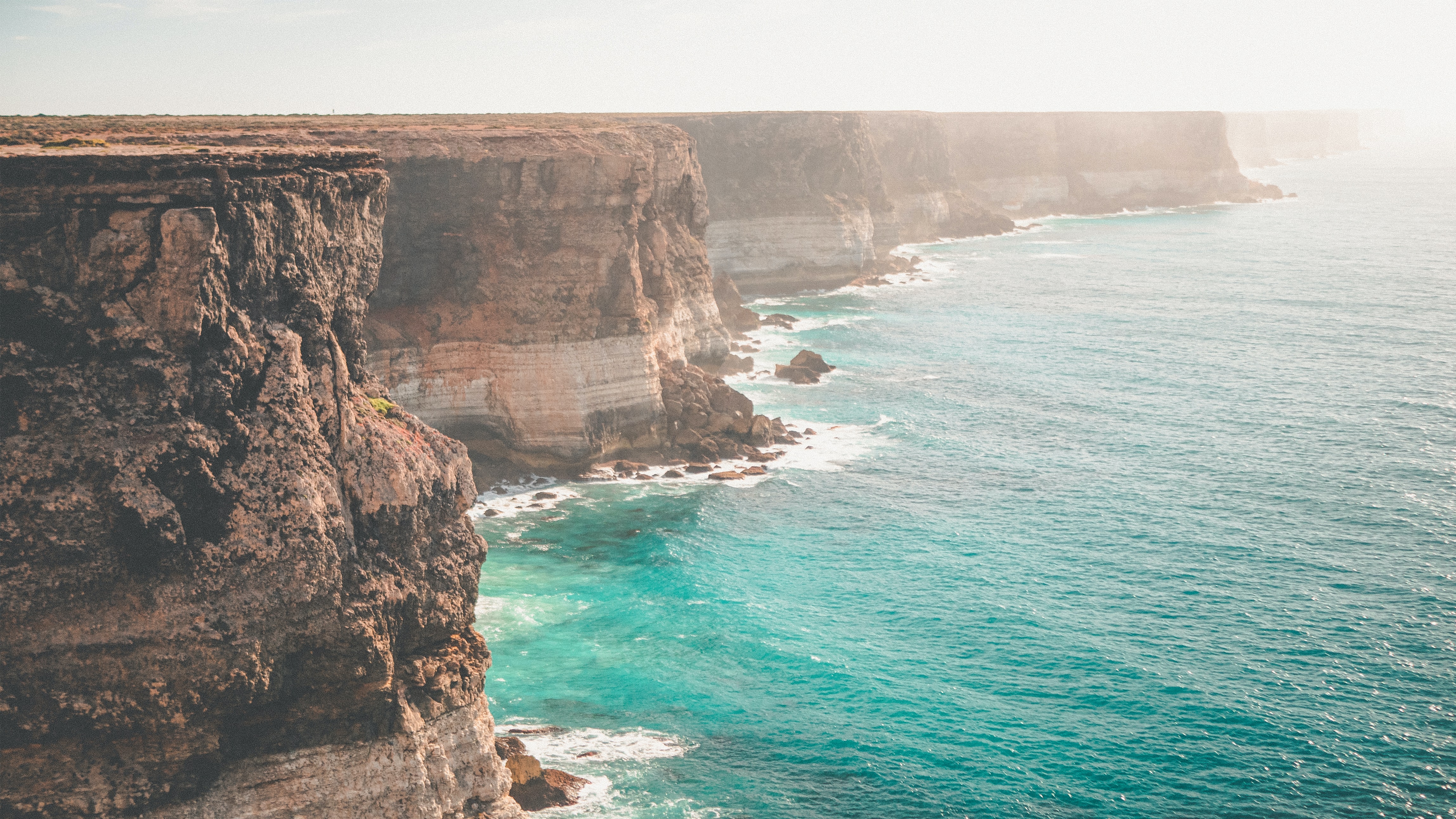 (Image credit: Unsplash - Simon Maisch).
8. Uluru to Kings Canyon, Northern Territory.
Keen to go a little more off the beaten track? Fancy a road trip through the quintessential red earth country, with the freedom of the open roads? The look no further than the three-hour drive along the Lasseter Highway from Uluru to the breathtaking Kings Canyon.
This drive is one of the most spectacular road trips in the world. Full of red dirt, camels, incredible ancient Aboriginal art, long straight roads and brilliant orange sunsets. The road, known as the Red Centre Way, is a 1135km loop from Alice Springs that takes in Uluru, Kata Tjuta, Watarrka, Kings Canyon and the West MacDonnell Ranges.
The Red Centre Way is a jam-packed adventure, and one you won't soon forget.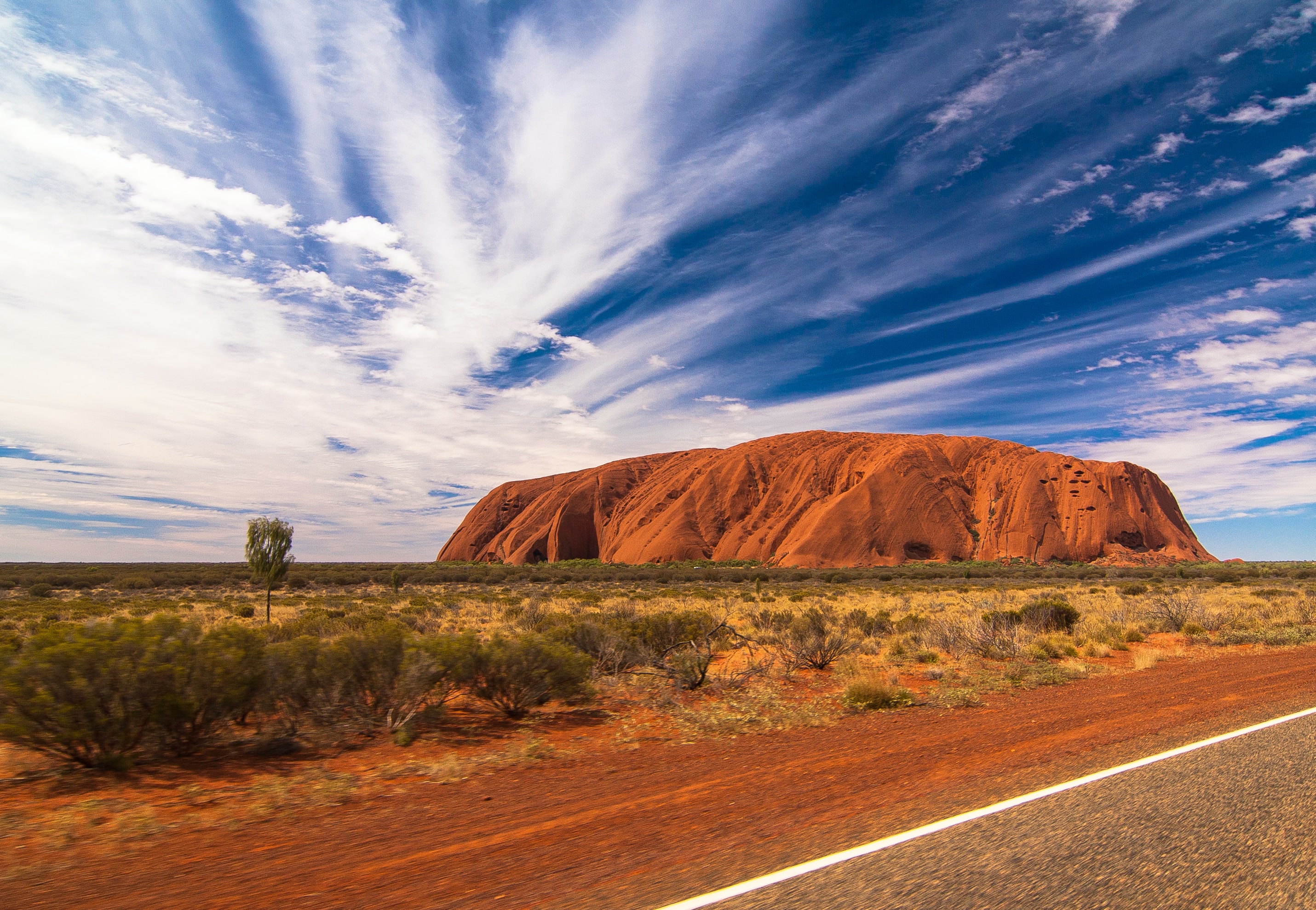 (Image credit: Unsplash - Photoholgic).
9. Great Alpine Road, Victoria.
This 339-kilometre adventure along Australia's highest year-round accessible sealed road, takes you through lofty mountain ranges, down plunging valleys, into lush forests, and past rolling vineyards. The drive starts in Wangaratta and follows a disused railway track (now used by cyclists) through the Ovens Valley to Harrietville, up and over the alpine resort of Mount Hotham, then down to the lovely coastal village of Metung on the Gippsland Lakes.
Along the way you'll be able to stop at Mount Buffalo National Park for unique rock formations and waterfalls, and the beautiful town called Bright for golden trees in Autumn, walks along the pristine Ovens Rover and boutique beers from the local brewery.
Whatever the season you'll be guaranteed an amazing journey year-round. With warm weather walking, cycling, camping and high-adrenaline adventure opportunities, breathtaking views, unforgettable scenery and warm welcomes in the villages along the way.
(Image credit: ABC News).
10. Blue Mountains, New South Wales.
Last on the list is the incredible Blue Mountains road trip that takes in the iconic scenery of the Greater Blue Mountains World Heritage Area. This epic journey covers 1,200km of sealed road over the vast sandstone plateau of Wollemi, Yengo, Gardens of Stone, Blue Mountains, Goulburn River and Abercrombie River national parks. With some of the best scenery in Australia.
Whether you're after a coastal drive or the beauty of mountains rolling along the skyline, this road trip has it all.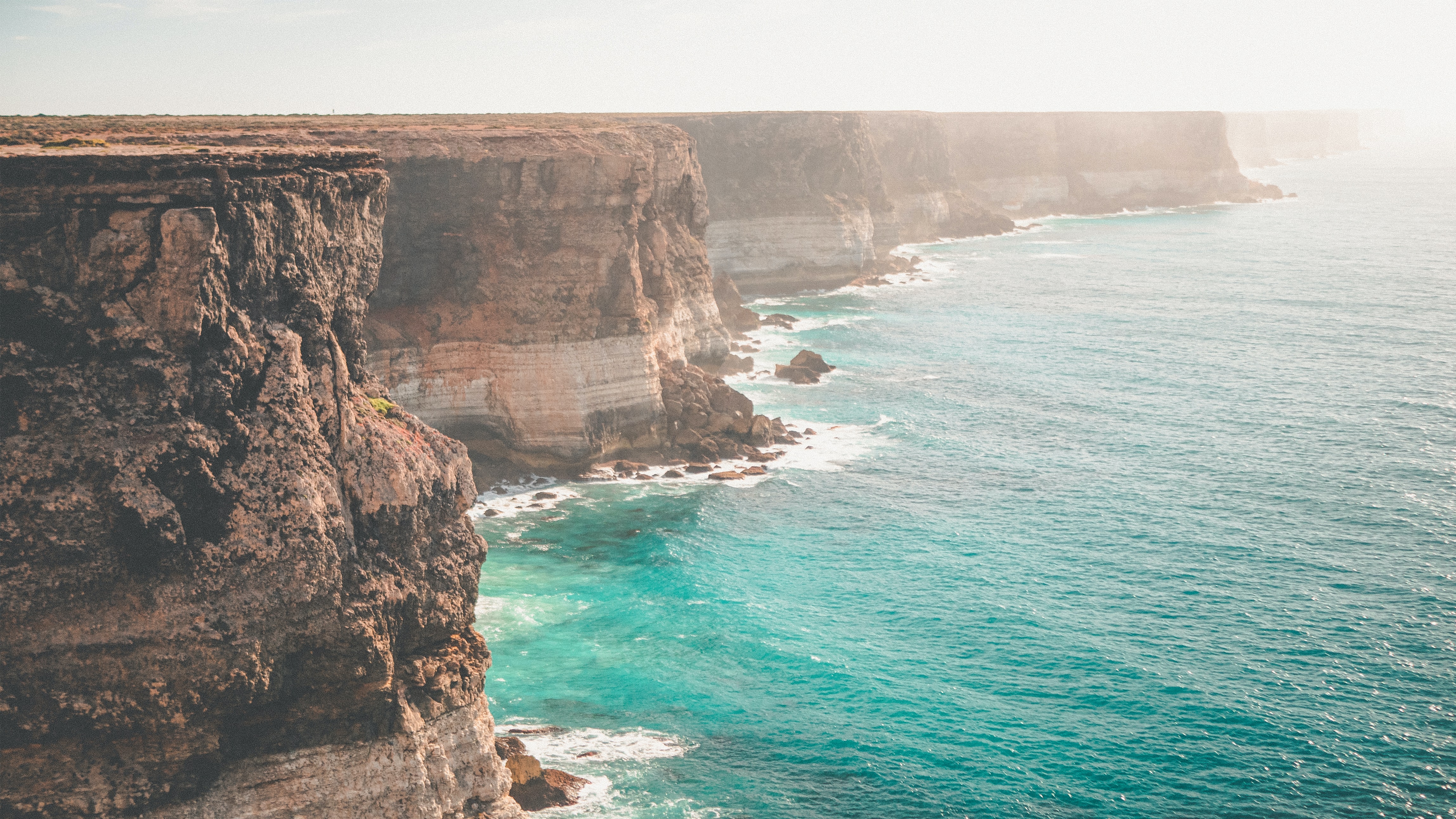 (Image credit: Unsplash - Quentin Grignet).
So, what are you waiting for? Charge up your car, pack the essentials and head off down the highway! A road trip is the perfect way to explore somewhere you've never been before, try something new, and give back to some of the local businesses that have been hit hard these past few years.
Time to switch?
Find out how much you could save by switching to an electric car with Vyro today.
Start now